Seneca Camera Manufacturing Co., Rochester, NY ?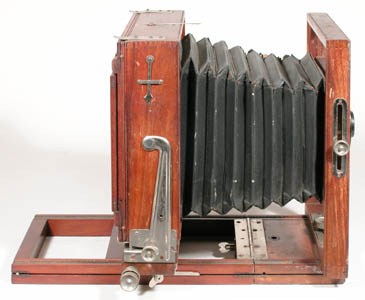 Date Introduced: – ; Years Manufactured: c. 1915
Construction: back focus via rack and pinion (two gear tracks on top of the base rails); double swing; reversing by removable back; shifting front standard
Materials:  mahogany-finished wood (but not mahogany), nickeled brass hardware, leatherette bellows
Sizes Offered: at least 5×7
Notes: This camera may not be a Seneca product.  Although it bears a strong resemblance in design to the competitor, but has different swing hardware, and is nickeled, whereas the Competitor was always advertised as brass.